Real racing 3 Tutorial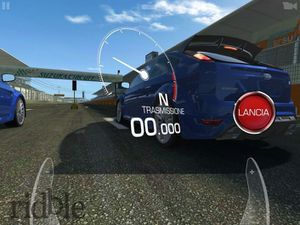 After the race, as expected, our beautiful Porsche disappear from the car park and we are led to choose a new car, starting from the low-end, in order to address the many races scheduled in the game, divided into series and categories. At this time, we see the car park of Real Racing 3: not only is really very good, but boasts only official cars. Gone are the times when the parks car racing games for smartphones contain cars invented as "Refrigerator Type R Concept" and things like that.
The fleet of cars ranging from low-end cars such as the Nissan Silvia and the Ford Focus, ending the supercars like the Bugatti Veyron and the spectacular new Pagani Huayra . Present all the most famous brands, such as BMW, Audi, Nissan, Porsche, Lamborghini. It will not park cars broader ever (for example, lack the Alfa Romeo brand and several others) but in the mobile world certainly has not seen anything like that so far . Also present customizations, divided into the engine, transmission, brakes and tires (but in more expensive cars are also other types of power-ups). Within each of these sections we will find updates to be performed gradually (of course in exchange for a certain sum of money) that will allow our cars to be more competitive in some respects.
Real racing 3
The same variety of cars can be found in the systems only official tracks, and even a few. This Silverstone, the Hockeneimring, Laguna Seca, Suzuka and so on. Also present was the famous circuit of Spa-Francorchamps, which alone is more than enough to dwarf the fans of racing games.
"Gone are the days when the car parks of racing games for smartphones contain cars invented as" Refrigerator Type R Concept "and stuff"So we begin to compete: between game modes is a bit 'of everything from fast all'eliminatoria normal race, but there are also tests of speed , resistance, butt, and more. To our amazement, we also found a drag race mode , which faces an opponent on a short straight. In this case, the interface provides us with a button to press to take to the street and two to make manual gearshifts in perfect timing. Races are very difficult, but the game allows (this is the only case) to try again as many times as you want without retiring from the event, as long as the tires are not damaged so much that you give up. Absent, however, any kind of competition focused on drifting.
Share this post